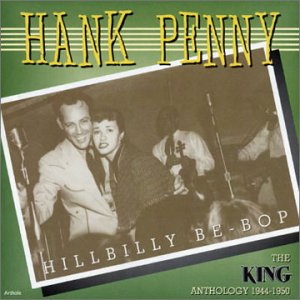 yep.
This post written under the influence of
Will Johnson's Vultures Await
.
Thanksgiving (or "rape of the indigenous peoples day", as i like to call it) is coming, and that means daily Xmas posts from the Mountain. Hold your breath.
And in the spirit of thanking, thanks to
Keep the Coffee Coming
for the nice words. Visit her site, she's got some great tunes up, and it's one of the best-named mp3 blogs i've run across.
I was trying to decide today between a Hank and a Merle, flipped a coin and come up Hank.
Hank Penny
is one of those great forgotten musicians and bandleaders. I have to admit to having very little knowledge of him until
Bloodshot
put out
Crazy Rhythm
. Now, I'm hooked on his brand of Western Swing/Be Bop. Western Bop. Sumthin'.
Here's what the mighty Bloodshot has to say about him:
"Hank Penny should be a household name. But the reason he isn't is the same reason that this release cooks: attitude. Seems Hank wouldn't take shit from anybody. As a result, he burned a lot of bridges and missed more than a few opportunites to further his career.
He started his first band, the Radio Cowboys in 1935 and later became a regular on the Boone County Jamboree out of Cincinatti. He acted in a couple of Westerns, yukked it up on Spade Cooley's TV show in the 40's, DJ'd here and there across California and Kansas, and tore the place up in clubs across the country from the 30's to the 70's.

Crazy Rhythm brings together 30 songs (we can't even list them all here) recorded for the Standard Transcription Service in 1951 and never released comercially until now. You get Hank's signature tune "Little Red Wagon," along with a grab bag of dancehall Western Swing, proto-rockabilly and a few ballads and novelty tunes thrown in for good measure. A quick scan of the song titles alone reveals that we are dealing with one unique talent.

Although he never achieved the fame he deserved, Hank's music remains as a dazzling example of one of country music's unheralded greats. Try the OTHER Hank on for size!!!!"
Couldn't have said it better myself. Enjoy.
Flamin' Mamie (mp3)
White Shotgun (mp3)
I Like the Wide Open Spaces (mp3)
Won't You Ride in my Little Red Wagon (mp3)
(Click on Song...go to Briefcase...Download the joy from there)