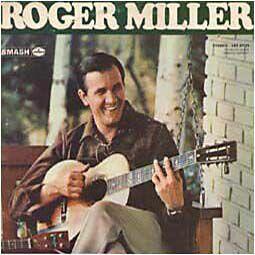 You can't rollerskate in a buffalo herd
I like American Music.
Do you like American Music?
So, Let's see....John Peel, Yassar Arafat, and Ol' Dirty Bastard, all dead. What can they possibly have in common?
Lots of great new blogs out there. My favorite new one has to be
Locust St
., who beat me to a Bob Wills post. It's a fantastic site with the kind of old timey sounds I can't get enough of. Makes a great companion piece to the well-established and essential
Honey, Where You Been So Long
. Bookmark 'em both right now and visit daily.
Well, since I've put the Western Swing post on hold, I'm gonna send some
Roger Miller
towards yr ears. Not the Mission of Burma guy, but the country and western fella.
Most of y'all know Miller's more famous tunes,
King of the Road
and
Dang Me
. And certainly, they're two of his greatest songs. But the man put together a career full of brilliant songs. Ranging from the humorous, to the wistful, to the downright sad, Miller stands as one of our greatest lyricists on par with Cole Porter and Hank Williams (perhaps a mix of the two). And while replacing Harry McClintock as the King of the Hobos, he even found time to write a Broadway musical that doesn't suck, Big River, "based on the life" of Huckleberry Finn. He's one of the greats, baby. And he deserves a place in the pantheon of great songwriters, whose nicotine-stained voice sang America.
Visit his website
for a complete history and discography. The following tunes are taken from the box set
King of the Road: The Genius of Roger Miller
. Buy it. You deserve it.
Humorous songs:
The Moon is High (And So Am I) (mp3)
Poor Little John (mp3)
Train Song:
Engine Engine #9 (mp3)
Sad Song:
One Dyin' and A-Buryin' (mp3)
Ebulliant Song:
Walkin' in the Sunshine (mp3)
(Click on Song...Go to Briefcase...Download from there)