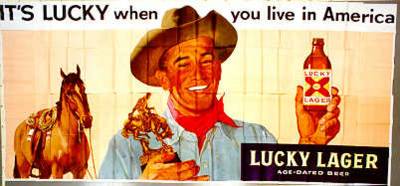 gettin' lucky
I think as I get older, more and more people are gonna die. Now that sounds sorta like a stupid thing to say...and it is, I guess. But the cultural icons that affected my life, the ones who I grew up with....well, when I was in my teens and 20's, if someone famous died, I didn't really have a reference. It sucked, but I didn't care so much. They were too distant from my cultural starting point. Or I was too young to appreciate fully what their passing meant.
Russ Meyer
died the other day. And
Tammy Faye has lung cancer
. Two extremely disparate individuals, to say the least. But both influenced my life in very singular ways. Meyer...well, let's just say he influenced my life, and leave it a that. Tammy Faye...I grew up in a religious household. My parents were big supporters of
PTL Club
. I remember watching as a child and thinking there was something not quite right about Tammy Faye and Jim Bakker. Of course, we all knew what transpired later. But, as I grew older, and started paying attention to what the woman was saying...I dunno, I started to appreciate her. Here's a woman who's essentially been shit on for the last quarter century or more, and all she does is love people. I remember Bill Mahrer trying to bait her on Politically Incorrect, and she wouldn't say a negative word. I'm still dumbfounded by the weird relationship she formed with Ron Jeremy. It seems as if she truly believes the best parts of her religion. She's an easy target for mockery. Too easy. What has she ever done wrong to anyone to deserve that? Really? Has she molested any young boys? Does she wear any more makeup than Paris Hilton? Does she sing any worse than yr average Indie Band of the Day? Nope, nope and nope. Cut her a break. I hope she makes it...I just think the world's a little nicer with her in it.
Watch "The Eyes of Tammy Faye"
On a completely different note, I've been reading
Dino: Living High in the Dirty Business of Dreams,
by
Nick Tosches
.
I've been a fan of his for awhile, and I just finished his rather controversial take on Emmett Miller and the minstrel tradition,
Where Dead Voices Gather
. Tosches is an extraordinarily gifted writer and wordsmith, completely unafraid of his subjects, or the reactions he might receive from his take on said subject. His fiction is equally as good as his non-fiction, and, with
In the Hand of Dante
, he wrote one of his finest works yet, alienating many, and gaining even more fans at the same time. Check
'
im out.
I've been waiting to put drinking songs up until
the Tofu Hut
finished its fantastic run on the same subject (I know I keep linking to it, but it really is a great site). I didn't want to repeat anything. Today it's drunk country day.
Hank Thompson
(please ignore the dorky picture on his site) was a great country and western singer, writing and covering some of the best sides of the 40's through the 60's. "Known as the "King of Western Swing," Hank's brand of music, from it's first introduction in the '40's, was like no other. A magical blend of big band bravura with fiddle and steel guitar, "Western Swing" transcended the boundaries of country music. It was "big band homesteading the country!" Combined with Hank Thompson's personal genius for innovation and presentation, a bright new sound and era was born in music." His specialty was drinkin' songs and he has a new comp out called, appropriately enough,
Drinkin' Songs
. Get it.
Freakwater
(couldn't resist that link) are
Janet Beveridge Bean
and
Catherine Ann Irwin
, both stalwarts of the indie rock (whatever that is) scene. But their music is pure hillbilly goth, seemingly straight out of the Appalachian mountains. They're both involved in other projects, solo and otherwise, so a new Freakwater album is always something to look forward to. The song below is taken from
Feels Like the Third Time
on
Thrill Jockey
.
Roger Miller
. Well, y'all know who Roger Miller is. Mr. King of the Road and one of America's greates songwriters.
Marti Brom
is a mean, mean rockabilly queen. In fact, the track below is from her album called
Mean
. Great album cover...apparently she appreciates alcohol. Me too. Drink up.
Freakwater: My Old Drunk Friend (mp3)
Marti Brom: I'm Drinking Too (mp3)
Roger Miller: Chug a Lug (mp3)
Hank Thompson: A Six Pack to Go (mp3)
(click on song...stumble over to the briefcase and hazily download from there)