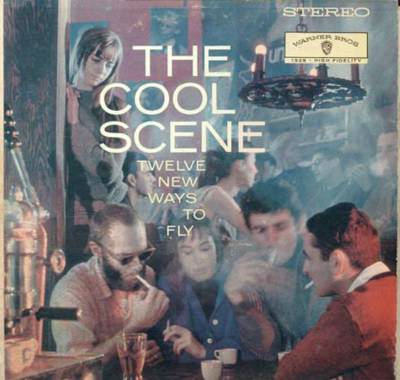 tryin' too hard
One week from today i'm gonna be
Real Gone
. Yes. Now here's an interesting quandry...I've found the album on numerous sites, ready and available for download. I have no moral problem, obviously, with downloading stuff. Especially in Mr. Wait's case, cuz I spend an obscene amount of money on the man, 'specially if he'd get off his ass and announce the U.S. tourdates. I'd buy the album anyway...on cd and vinyl (hell, 8 track if it were available). But therein lies the issue...A new Tom Waits album is an event for me, a carefully planned out day, as it were. Pacing outside the record store, holding the item(s) in my hands, handing over the hard earned dough, the expectant 2 block walk home, pouring the glass of Scotch purchased especially for the occasion, and then, finally, down goes the needle (or up comes the lens...depending). I'm one of
those
Waits fans. So...as much as I wanna hear the album NOW, I'm gonna wait (heh...pun...kill me). It's just not the same. Perhaps I'm just a bit off my nut, but I think I aint alone.
I'm listening to the
new Bruces album, The Shining Path
as I write this. It's Alex McManus from
Lambchop
's "side" project. (When is an album/band a side project or just another work by somebody who happens to play with someone else?). It's pretty good...sad and lonely sorta stuff. I think a Lambchop post may be coming soon...just cuz I wanna. Maybe I'll combine it with the new David Kilgour record, and follow with a whole
Flying Nun
week. (And in a related rambling aside: With albums by Richard Buckner, American Music Club, The Clean, The 6ths, Crooked Fingers, Lambchop and the aforementioned Kilgour rekkid, can we finally put
Matador
to rest, and sing sing sing the praises of the greatness of
Merge
? No? Ok, room for everybody here at the Mountain)
New episode of the
Gilmore Girls
tonite. Will Dean run into an unfortunate and very fatal accident? Will Rory take her new found sexual freedom with her to Paris and talk Emily into a little fun? Will
Sebastian Bach
continue to be unexpectedly hilarious? Will Luke and Lorelai keep from spiralling into Moonlighting-like tedium? (my bet on the last one there is yes...the writers are too good...really, it's just a new excuse for their
Billy Wilderesque
bickering). Who knows...but the show that consistently offers brilliant dialogue and obscure references will continue to draw me mothlike to the flickering tubes that are my television.
Oh, yeah, tunes.
I can't find a whole lot on
Jim Ford
. I first heard of him years ago in a review from
No Depression
. I was sufficiently piqued by the review to seek out his one album,
Harlan County
, which was made in the mid 60's. Boy howdy, was I pleased. You can see a considerable
Van Morrison
influence in his tunes, but only by way of New Orleans, and only if Van was a good ole boy who happened to fall in love with
Ray Charles
. Some very brief bio info exists:
" Originally from New Orleans, Jim Ford lost interest in his academic pursuits and, in 1966, drifted out to California. He was passing through L.A., on his way to the Haight-Ashbury district in San Francisco, when he met two session musicians, Pat and Lolly Vegas. The Native American rockers -- who later formed the commercially successful
Redbone
-- had worked on the Shindig television show at the time, and had already recorded their Pat and Lolly Vegas at the Haunted House album for Mercury. After hearing his songwriting talent first-hand, the Vegas brothers brought Ford to the attention of Del-Fi Records' honcho Bob Keane, known around the L.A. music scene for his "open door policy." Keane released a couple of Ford's singles on Del-Fi's Mustang label, both of which sank without a trace. Del-Fi/Bronco recording artist Viola Wills also recorded one of his songs. Along with Pat and Lolly Vegas, Ford wrote the P.J. Proby hit "Niki Hoeky" (it peaked at number 23 on Billboard's pop charts in January 1967), which Ford's former girlfriend Bobbie Gentry also sang on one of her later albums. In 1969, Ford got the opportunity to record his debut album. Harlan County (released on the Sundown label, a small subsidiary of White Whale) featured funky, mid-tempo country, and R&B-flavored rockers with a driving Muscle Shoals-style rhythm section, with backing and arrangements by the Vegas brothers and Gene Page.
"
Harlan County is a "lethal slab of country/soul", said an anonymous reviewer on the web, and that just about sums it up.
Harlan County
is one of my all-time favorite albums, and I think a true lost classic.
Harlan County (mp3)
is the first track..."In the black hills of Kentucky I was raised, in a shack on Big Bone Mountain". Followed by horns, sweet soul backing vocals, a Swing Low preachin' interlude, cornbread...ah, damn. It's just too damn good.
Dr. Handy's Dandy Candy (mp3)
has one of those guitar lines that'll make you sweat, and the chorus will have yr neighbors knocking on the door...not to shut you up, but to get themselves some of that "dandy candy". Kicks Van's ass all over the floor, and can't take the time to mop up after.
(click on song...go to briefcase, and grab from there. thank you)