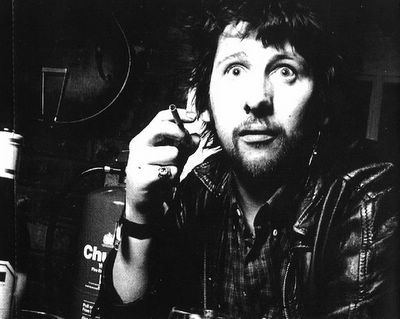 Happy St. Patrick's Day.
The Mountain doesn't work on St. Pat's.
We do, however, have a busy schedule.
So, quick, who are the Mountain's top three favorite musicians/bands? Free Irish mix cd to the first person to guess correctly (man, I'm just giving these things away). Aw, hell, I'll make it easy. Guess two, and I'm giving you one of them right below. This should be a walk in the park.
Shane
.
Blah blah blah to all the press, both negative and positive. I've already ranted once back a few months ago. Noone wants to hear it again. Just remember, it's his
writing
. The populist, the revisionist historian, the punk, the sentimentalist, the man mad in love and sadness. Worship at whatever altar you want, it's the music that matters. Yeah.
Pogues: Wild Rover (mp3)
Shane MacGowan and the Popes: Danny Boy (mp3)
Big Rock Candy Mountain in no way endorses having a few drinks early in the morning before posting one's blog. We do, however, endorse independent retailers, thinkers, and fiddle players.