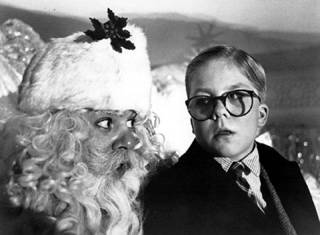 classic
It's the final week, and I'm having to chop off a bunch of songs from my list. More for next year, I guess, assuming I'll still be around.
Don't forget to check yr local listings for the 24-hour "A Chritsmas Story" marathon.
Red Red Meat
is one of those bands I referred to earlier as "burnt desert music." Seems odd, since they're based in Chicago. But not at all. It's a frame of mind, a tuning of the guitar, a slide of the beer bottle. Or something. Red Red Meat sorta "broke up" a while ago, but morphed into
Loftus
for an album, and can now be found as the awe-inspiring
Califone
. You can read all about the bands, the morphing, the albums, the lyrics and free (FREE!!!!) mp3's at their website
here
.
I know I posted one of the following tunes before as part of a bootleg medley by the original artist. But
Neko Case
is just about the finest artist around. I love Neko. You love Neko. The voice that makes grown men quake in their boots (cowboy and doc martens alike). And what could be better than Neko? Neko covering
Tom Waits
. Oh my.
Aluminumtrailerparkchristmastree
Red Red Meat: There's a Star Above the Manger Tonight (mp3)
Neko Case: Christmas Card From a Hooker in Minneapolis (mp3)
(yousendit files...click target...download from site)