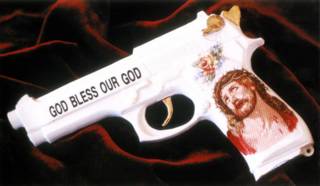 get thee behind me satan
Here's more of the much talked about and highly anticipated BigRockCandyMountain Top 10
albums
of the year. BigRockCandyMountain: The brand you trust for all yr happenin' sounds in modern hi fi. Ask for it by name.
8. Lambchop: Aw Cmon/No You Cmon
Seems as if these two albums got a bit lost in the shuffle. Or people just didn't enjoy them as much as myself. Whichever, they were never too far from my stereo.
Lambchop
has been making great, understated albums for a decade now, getting quieter as they've added more and more members. With Aw Cmon, in particular, they've made the kind of album(s) Wilco were aiming for with A Ghost is Born. Orchestral in the finest Nashville tradition, without ever going over the top, the songs demand close attention. Mainman Kurt Wagner is the finest observer of the small, good (and not so good) things we have today. Perfect albums for winter nights and spring dusks.
Lambchop: Nothing But a Blur From a Bullet Train (mp3)
7. Various: Good Girls Gone Bad
I'm not really cheating on this one, cuz it was released this year (2004).
Ace Records
has been issuing astounding packages for years, from rockabilly and old weird country to soul, blues, jazz, classical, and all points round and inbetween. This particular collection collects, and I quote,
"Weird, wild and wonderful women in a wigged-out collection of stone rockers and the occasional walk on the strange side."
Most of the tracks were cut during the late 50's heydey of rockabilly, and you can see Wanda Jackson's influence. Neko Case was definitely paying attention to these recordings. It's underproduced and gloriously raunchy, all the things we beg for in rock'n'roll.
Billy Jo Spears: Get Behind Me Satan and Push (mp3)
6. American Music Club: Love Songs For Patriots
I never thought they'd get back together.
American Music Club
were one of my favorite bands growing up. I think Mark Eitzel was my Morrissey. When they broke up, I kinda ignored the rest of the bands' projects, opting to follow Eitzel,alone, through his rather curious solo path. When I heard they were indeed reforming, recording, and touring, I was skeptical. Didn't think it would work, just another sad attempt at a cash-in like the Pixies. Needless to say, I was more than pleasantly surprised. All the elements that made AMC great are here in abundance, honed, even, by their time apart. The pedal steel is sadder than ever, Mark's grumpier than ever, the whole feel is vintage AMC. Live, they clicked even more remarkably, even managing to rein in (slightly) Eitzel's notorious digressions and self-effacement. Welcome back, boys, ya mopey gits.
American Music Club: Another Morning (mp3)
(All files are YouSendIts...click on target, and download accordingly)